Welcome to the Bloble.io Wiki
Bloble.io is an incredibly entertaining 2D strategy game. It sends you out into a map with multiple other opponents dotted around the map and it's your job to see that they fall. You are given a limited amount of space to build and 7 different types of buildings to construct. There are 4 different types of units you can spawn in and use to attack others. Not to mention the countless number of upgrades. Everything is centered around the generator, creating power, which your entire existence relies on.
Although the game is very fun, the creator did not give much gameplay information and much of the controls are needed to be figured out by players themselves.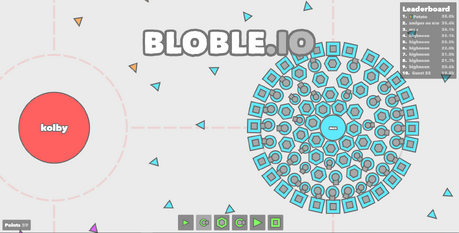 Want to contribute? Great! Read these rules first.
Before you edit anything or apply to become staff, please read these rules first. They are very important and a violation will result in a ban. Once you have decided you want to contribute, look through the articles and see if there are any that need more information. Then, feel free to add more info, but make sure you have verified your information. Accurate information is part of the rules.
Use the sidebar at the top of the page to go to different articles.
Notes
This is a helpful wikia for Bloble.io. There are other wikias on Bloble.io but they are vastly incomplete.
Latest activity
Want to help support this wiki? Find something that is incorrect and edit it!
Links
Game: http://bloble.io
Twitter: https://twitter.com/bloble_io
Reddit:
https://reddit.com/r/bloble/